12th & Midtown
Single largest contributor to the Midtown Mile and the cornerstone of the dynamic district.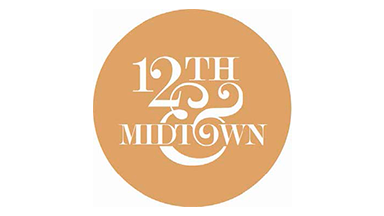 Spanning four city blocks at the heart of Midtown Atlanta, 12th & Midtown is a mixed‐use master‐planned development plan of nearly 3.5 million square feet of retail and office and 3,000 units of hotel and residential offerings. Momentum for 12th & Midtown began in 2006 with the $200 million dollar signature tower, 1010 Midtown which opened in 2008. The subsequent phases of 1065 and 1075 Peachtree introduced 785,000 square feet of Class-A office and retail, together with the 414‐room Loews Atlanta Hotel which opened in 2010.
77 12th was developed in 2013 as a 23-story mixed-use tower consisting of 330 luxury apartments and 20,000 square feet of street-level retail and restaurants.  The most recent phase of 12th & Midtown, Sixty 11th, debuted in 2016 with a similar mixed-use tower of 320 luxury apartments and 15,000 square feet of street-level retail.
The 12th & Midtown initiative brought Daniel together with several institutional partners including Selig Enterprises, MetLife, Northwest Mutual and the Canyon-Johnson Urban Fund.  While each of the phases have been sold out, Daniel Corporation maintains leasing and management of certain properties on behalf of our partners.
Attributes
3.5 million square feet of retail and office
3,ooo units of hotel and residential
$200 million signature tower
414-room Loews Atlanta Hotel
Partnership between Daniel, Selig Enterprises, MetLife, Northwest Mutual and the Canyon-Johnson Urban Fund
Accolades
Iconic property owned by the same family for 95 years
Historic inn and resort property – golf, tennis, swimming
1,100 acres
Partnership between Daniel and Arlington Family Offices